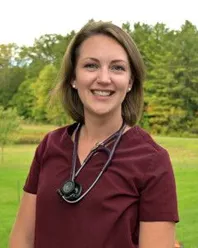 Dr. Fontaine was born and raised in a small town in Vermont. She attended Wheaton College where she received her BA in Neuroscience. After college, Dr. Fontaine spent a year working as the herd health manager on a small goat dairy in Vermont.
She has always loved animals and farming, but her time on the goat dairy was when she fell in love with animal medicine and realized she wanted to be a veterinarian. Dr. Fontaine received her DVM from Cornell University. She particularly enjoys surgery, physical rehabilitation, and animal behavior and is looking forward to providing her knowledge and skills in these areas to our wonderful clientele.
She is excited to be the newest member of our BHVH family. For those of you that have not had the opportunity to meet her yet, stop in and say hi or schedule your next wellness visit with her.